TURKISH REPUBLIC DAY CONCERT
Activity Date :
29/10/2016 19:30 Activity Location : Conservatoire Royal de Bruxelles-Rue de la Régence 30 A Bruxelles-1000 Activity Speaker : Activity Fee : Free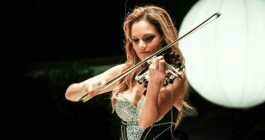 Geleneksel CUMHURIYET BAYRAMI KONSERIMIZ bu yil 29 EKIM CUMARTESI günü aksami Brüksek Kraliyet Konservatuari salonunda yapilacaktir. Istanbul'dan davetli olarak gelecek taninmis ünlü kemanci CANAN ANDERSON ve Konservatuar'dan 3 Master ögrencimiz ( Simay, Gözde ve Buket) davetlilere klasik Bati müzigi ve Türk müziginin taninmis parçalaraini sunacaklardir. Konserden sonra bir de resepsiyon verilecektir.
Our traditional TURKISH REPUBLIC DAY CONCERT will take place this year on OCTOBER 29th evening in the Brussels Royal Conservatorium. Worldwide known violonist CANAN ANDERSON ( from IStanbul) and 3 Master Students from the Conservatorium will play Turkish and Western Classical Musique . The Concert will be followed by a Reception ( walking diner).